NO ladders! NO Cherry Pickers!! We clean gutters in Newcastle, Gateshead, Jesmond, Gosforth and Sunderland
Commercial and Domestic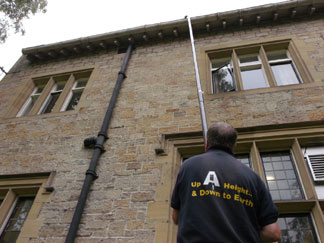 Have you got confidence in your guttering system…………will it keep water out of your residential or commercial property each and every year, do you have a regular maintenance plan or schedule.
High too dangerous to access residential or commercial properties run the risk every year of water ingress – DO NOT TAKE THE RISK….contact us today for advice and find out how we can help you plan avoiding costly repairs
Do you use the internet or yellow pages every year to find a competent company…………did you yourself carry out this task but are now struggling…has your trusted handyman retired or disappeared………are you a commercial company. or are you just not sure if you are receiving a good service from your existing operator……….what happens if your operator falls or has an accident..do you know the law..are they insured………
The consequences of leaving gutters blocked can be dire with the possibility of extensive water damage leading to repair bills running into thousands of pounds, prevention is better than cure………Why not have a plan to have it checked every year…
Gutter Cleaning
We use Traditional Gutter Clearing by Hand and Space vac Technology and for higher building work above 14 metres (approx 4 stories) we use cherry picker platform – we work to the smallest detail to completely remove the build up of moss, mud, silt, old pointing (concrete), tennis balls, weeds, dead birds, blocking the down pipes and preventing your guttering from working efficiently………………..
Have your gutters checked by our remote camera systems…..Now you can see what is in your gutters before and after cleaning……………
Save money in expensive scaffolding or cherry pickers to approx height of 14 metres (approx 4 stories) ………….we are Fully Insured and Health & Safety Trained Professionals to work safely at height on your property
Home or Business Owner/Facilities Manager ……ring us today to book an appointment…………we will come out to see you and give you a free quote…………….
We work with Housing Associations, Facility Management Groups, Landlords, Engineering Factories and Home Owners to ensure your Gutters are cleared out and work efficiently throughout the year ..and every year..
Technical Information: Home Owners or Business
One third Reported falls from height involve ladders. Most fatal injuries occur by workers on smaller domestic or private project work where regulations/risks are not managed (HSE)
Jobs rushed or risks taken by unqualified workers out to make quick money, lead every year to 14 deaths and 1200 major injuries (HSE)
Home or Business Owner, HSE (Health & Safety Executive) recommend that you ensure anyone working on your property is competent, accountable, professional equipped, fully insured for the work they undertake and Health & Safety compliant
Domestic or Business we take working at height very serious. We are fully Insured and Trained to work at Height, and Trained in Health & Safety Practices whether we work on your Business or Home.
Commercial Companies place their employees at risk every year by using either their own untrained/unqualified/uninsured staff to clear gutters or use outside non-professionals placing their Company at risk of heavy fines and ignoring Health & Safety Policies. Not to mention the danger of injury or death.