Our Family Business Built and Maintained on Reputation and Trust.
Our Upvc cleaning service is second to none – with Homes covered with dirt/cobwebs/carbon soot and algae. Ignoring the dirt on your Upvc and your home will quickly lose its Sparkle!
Grime penetrates and becomes ingrained into your upvc making your home look Grey and Tired, Transform Your Home, Have your Home Pampered/Help it smile again:
We safely restore your upvc back to new whether it's 10, 15 or 20 years old
We come and work for 4 – 6 hours on the exterior of your home or business returning it to its former glory.
Perfectionists we Clean to the Smallest detail – Your Home Pampered – 'Show House Condition'
We restore/clean glass, windows frames, canopies, lamps, conservatories incl. roofs, doors, garage doors, door handles, gates, roofline- guttering, downpipes and waste pipes – fascia, soffits, cladding………..
We make your PLASTIC LOOK FANTASTIC……………..
We clean with a Difference………….We don't 'blanket spray' your Upvc – we clean/restore by hand to the smallest detail – taking time to carry out a professional job – that's why our customers rate us so highly…………..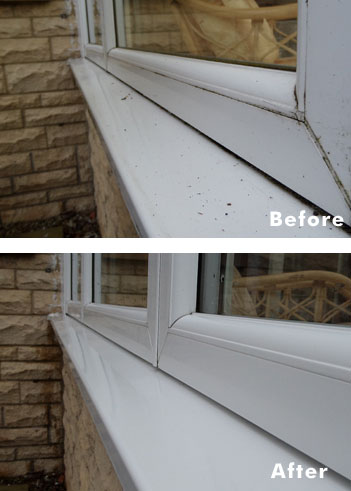 Be Careful what is used to clean the uPVC/plastics on your home/business…cleans/restores carried out using the wrong chemicals degrade the plasticiser (hard shell) with each clean/restore – do not be fooled BY cheap prices and quick jobs – you usually get what you pay for………..
Please read the advice from one of the Chemical Manufacturers….this is what they have to say to us…
As uPVC gets older it becomes more porous, the plasticising agents that protects the uPVC's surface (hard shell) that keep it subtle and shiny starts to break down, this is due to Sunlight (UV light) and using the wrong chemicals over time which gradually degrades the Upvc
Cleaning with the wrong chemicals accelerates the natural weathering process with the surface becoming rough – thus becoming more dirty more quickly………try it out for yourself today rub your fingers along your upvc window sill, is it rough and porous or smooth and hard?
Considering spending thousands replacing your old uPVC windows and doors….speak with us first…….we may save you a lot of money and upheaval by having your existing Upvc Restored Instead – + once restored we even give you a guarantee.
Even if your Upvc is 10,15 or 20 years old we can still help you and Restore it – all restores are carried out by hand using a safe method, it is time consuming but well worth the cost, time and effort to bring your uPVC back to its former glory rejuvenating your home again.
As professional cleaners – let us look after your Upvc and see the difference